The complex consists of:
«UVH-150E» drone
Mobile command-and-transport module of the unmanned aerial system «SURVEYOR-H»
System software
Flight control software
Ground station software
Virtual flight simulator
The system is provided with:
Service
Training
Documentation
UVH-150E HELICOPTER
The UVH-150E UAV is a high-speed compact helicopter with extended flight time powered by the gasoline engine.
Takeoff, en-route flight and landing of the drone are automatic. After uploading the flight mission the operator permits the takeoff, subsequent flight procedures are performed automatically.
The diagnostics, flight mission planning and remote control can be performed through the wireless network connection.


POSSIBLE PAYLOADS
Cameras of different types
B/W Spotter
Sensors
Designators
Lidars
Transmitters
Retransmitters
Signal Jammers
etc.
Applications
The carrier UVH-150E is used for:
Video surveillance and monitoring
Payload (max. 5 kg) delivery and autonomous transporting
Signal jamming
Radio link range extension and retransmission
Target pointing and designation
R&D flying laboratory (meteorology, hydrology etc.)
Monitoring the Earth's surface.
Operation
The drone UVH-150E is to be operated under the following conditions:
Operating temperature range:
-35°C to +50°C
Basing:
Takeoff and landing in less than 5x5 m area
Control modes:
1. basic
2. auxiliary
3. standby
4. emergency situations

Fully automatic
Semi-automatic
Manual (RC)
Emergency
Takeoff and landing:
Fully automatic
Emergency landing:
Parachute
Ground landing means:
Not required
Engine start:
Electric starter
Storage:
1. Helicopter in case - 38 kg
2. Portable GCS (PGCS) in case - 24 kg.
3. GOS-100 – 1.3 kg X2
UVH-150E specifications
| | |
| --- | --- |
| Maximum cruising speed: | 100 km/h |
| Maximum speed: | 120 km/h |
| Main rotor diameter: | 2500 mm |
| Length: | 2230 mm |
| Height: | 660 mm |
| Wheelbase: | 630 mm |
| Engine type: | four-stroke |
| Engine capacity: | 9.5 kW |
| Fuel tank volume: | 8 l |
| Payload with full fuel tank: | 1 kg |
| Maximum payload: | 5 kg |
| Max takeoff weight: | 28 kg |
| Maximum rate of climb: | 5 m/s |
| Max wind speed while taking off or landing: | 14 m/s (27kts) |
| Range of operation: | 500 km |
| Practical ceiling: | 2100 m |
| Flight time: | up to 5 hrs |
| Parachute: | ballistic |
| Onboard power supply: | 12 V |
| Altimeter: | laser |
| TBI (inspections, maintenance): | 200 hr |
Portable Ground Control Station (PGCS)
Command module of unmanned aerial complex SURVEYOR-H is designed to carry:
Equipment for communication and control
Unmanned aerial system operator and payload operator
Equipment for technical support of unmanned aerial system
Omnidirectional antenna for telemetry and control
Omnidirectional antenna for video and data
Iridium satelite modem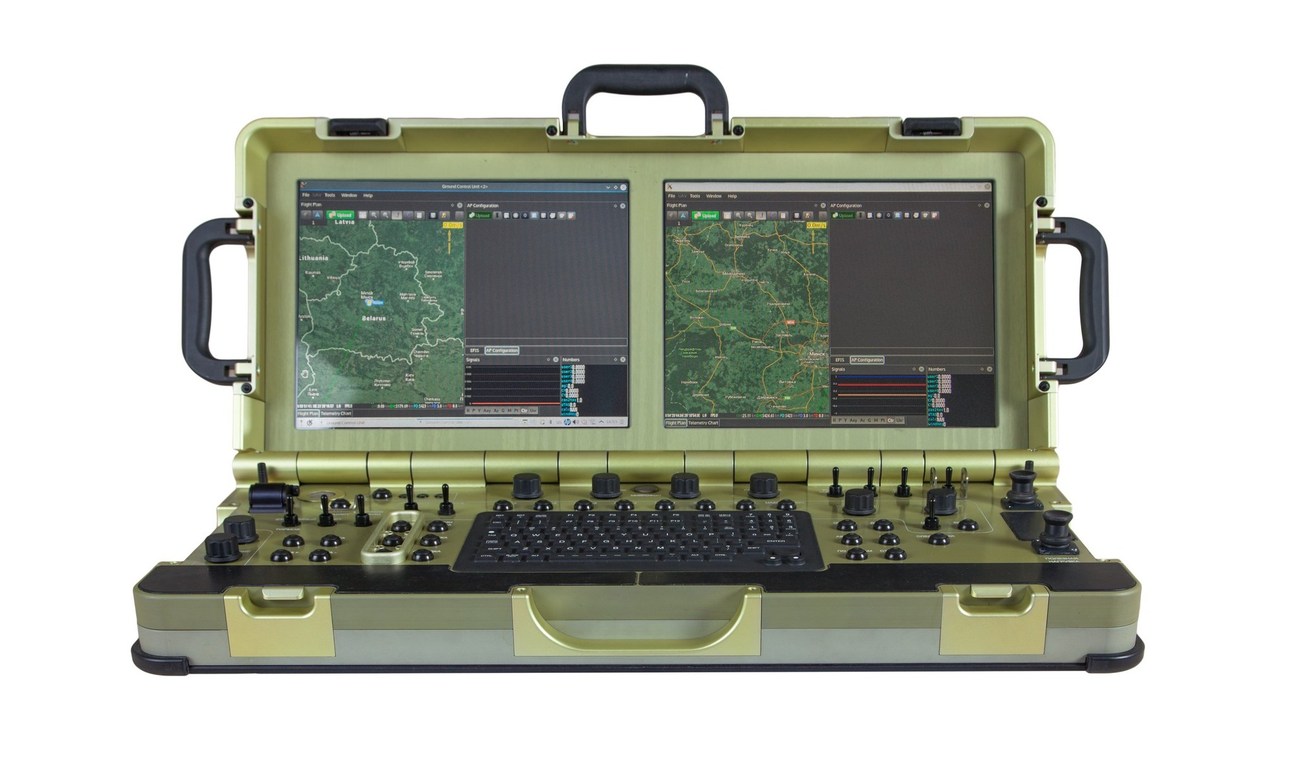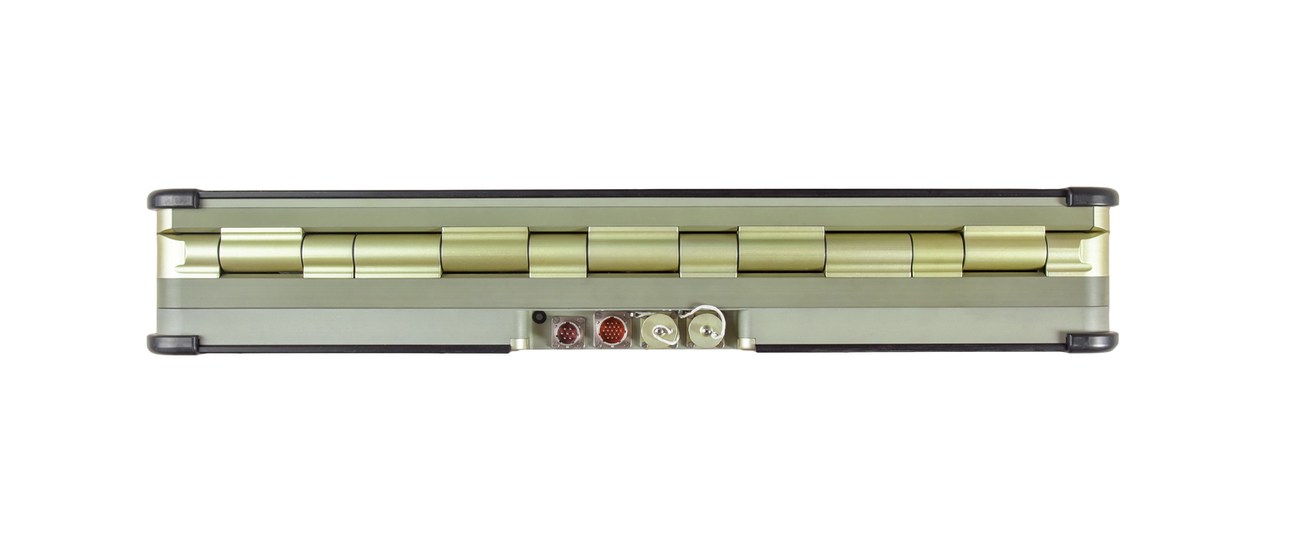 PGCS SPECIFICATIONS
| | |
| --- | --- |
| Operating temperature range: | -40°C to +60°С |
| Dimensions: | Length 762 mm, width 344 mm, height 128 mm |
| Battery life of the PGCS: | 5 Hours |
The software and automatic control system of unmanned aerial complex UVH-150E

Main functions of the AP10.0 (Computer system of automatic vehicle control):

automatic control of a moving object
operating mechanisms control
engine control
semi-automatic control with automatic stabilization of a moving object
control of a moving object in emergency mode
payload control
payload feedback
rotating platforms control in gyro stabilization mode under AP10 control
telemetric receipt and transfer between control GCU and a moving object
simulation mode
operator training in flight simulator with a/c virtual model downloaded
pre-flight a/c and flight assignment testing
onboard power control
power stabilization
conversion
distribution, including emergency power supply mode
onboard power monitoring
Payload
Option 1
Gyrostabilized two-axis gimbal for day camera surveillance
Features:
Weight - 1.1kg
Body - aluminum
IP-65
Drying cartridge
Direct drive
Absolute encoder
Three axis rotation - 360º+

Anti-vibration frame:

Parameter
Value
Video camera
SONY FCB-EV7500
Video standard
Color (PAL)
Operational spectral range
0,4…0,8 mkm
Max view angle
50º
Rotation angle
roll 360º+
pitch 360º+
Resolution
1280х720
Optical magnification
30
Optical zoom
10
Digital zoom
12
Effective elements
2.38 МPix
Resolution
1280х720
Focus
auto
Horizontal resolution
1952
Lens
F 4.3 mm 129 mm
Minimum light intensity, lx
1.4 LX (F1.6, ICR)
Environment temperature range
-30 … +50°С
Altitude range, m
-200 … +8000
Option 2
Gyrostabilized two-axis gimbal for thermal camera surveillance
Features:
Weight - 0.68kg
Body - aluminum
IP-65
Drying cartridge
Direct drive
Absolute encoder
Three axis rotation - 360º+

Anti-vibration frame:

Parameter
Value
Thermal Imager
MINIR
Imaging format, analogue output
PAL, NTSC
Operational spectral range
0.4…0.8 mkm
Max view angle
24.6º
Rotation angle
roll 360º+
pitch 360º+
Operational spectral range
8…12 mkm
Pixel size
17 mkm
Operating temperatures range  
-40ºС…+60 ºС
Matrix resolution
640х480
Temperature sensitivity threshold
<0.05º
Frame rate
25/30Hz
OPERATING SOFTWARE OF UNMANNED AERIAL COMPLEX SURVEYOR-H
OS – Operating system – AP10: The software is developed by UAVOS (AP10 documentation wiki)

Loading of maps:
Google Maps (demo version with no limitations) - by default. Purchased license is required for commercial version.
Loading of maps with reference to the coordinates is possible.
Appearance and software functions of the Ground Control Unit:
Fragment of flight mission input
Telemetry analysis section
Telemetry
Instant ground and in-flight control of all the UAV's parameters
Real-time telemetry feed to the Ground Control Unit
Data packet transfer when communication is reestablished
Data recording on autopilot flash memory
Easy telemetry analysis
Flight overview at the simulator for the visualization of the A/C behavior in-flight
Servicing
The complex's maintenance can be performed both at the Customer's and the Supplier's premises.
Software control and testing of all systems can be done remotely via the Internet.
Software updates are downloaded automatically as soon as the system is connected to the Internet, if the option is enabled.
Training
The training of Customer's personnel includes the following courses:
Drone operation
Payload operation
Drone engineering
Virtual simulator
The system comes complete with a virtual simulator. The simulator allows training of specialists, high-skill maintenance, and flight mode drills in various weather conditions. Besides, the simulator allows to check the conditions of the A/C control system followed by the A/C actuators testing.
Documentation
The system includes the following set of documentation:
The complete set of documents on UAV operation and servicing
The automatic control systems manual